My first visit to Buenos Aires and South America was in 2006 by myself. I only had stayed 4 days in Buenos Aires which captured my heart with its architecture, cuisine, friendly people and Tango. Last year I had the chance to visit Buenos Aires once again with my sister and a friend of mine. Three girls, we really had fun. This time I almost stayed a month in Argentina and visited Tigre, Cordoba, Mendoza, Salta, El Calafate and El Shanten besides Buenos Aires.
Even though I stayed one month in Argentina, it wasn't enough to see all the beautiful places of the country. I wish I could spend more time in Patagonia region and see Ushuaia. Anyway, I have a reason to come back to Argentina 🙂 The economy of Argentina had great depression between 1998-2002 but still in recovery period. There is a black market for foreign currencies called the blue market. The exchange rate of blue market is almost %50 higher than the official rates. I highly suggest you to take cash in EUR or USD and exchange in the blue market with strong negotiations. Don't forget to check the banknotes which may be fake! Even foreigners can't withdraw USD or EUR from any ATMs. We withdrew USD in Uruguay during our short travel there.
There are wide options for all kind of travellers in Argentina. Argentina is not a cheap or expensive country. But the prices of meat and wines are relatively cheap than my home country. Argentina is a paradise for meat and wine lovers. We almost ate steak 2 or 3 times a week. The portion of the steaks are huge and fulfilling.
The country is quite big and the bus companies provide comfortable coaches and good services. The price of a bus is sometimes equal to the price of a flight. I sometimes preferred the flight to save some time but if you have enough time, take a bus and enjoy the view of the countryside. You can read all of my previous posts, articles, pictures and experiences about Argentina using this link, and for more travel expenses and travel costs information, check out my Vacation Cost Series.
I always keep note of my expenses while I am travelling and also in my daily life. This time, I want to share some basic expenditures we did in Argentina. I hope it may give an idea of planning a trip to Buenos Aires and all other beautiful cities in this vast green country.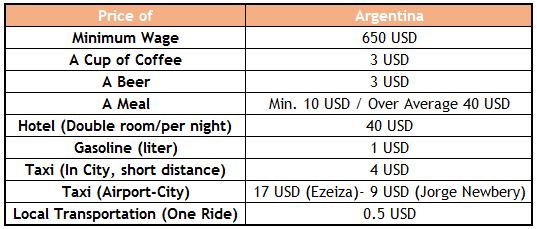 You can also download the Excel sheet file using the link provided below (just click on the icon) in case you want to print it or modify it to fit your own requirements.
Also here are some photos from our Argentina trip: